Candor Investing is now on SmallCase.com
I had written a twitter thread on this. I will just let the twitter thread introduce the SmallCase to you
Introducing the Candor Investing SmallCase
@smallcaseHQ
A thread
1/n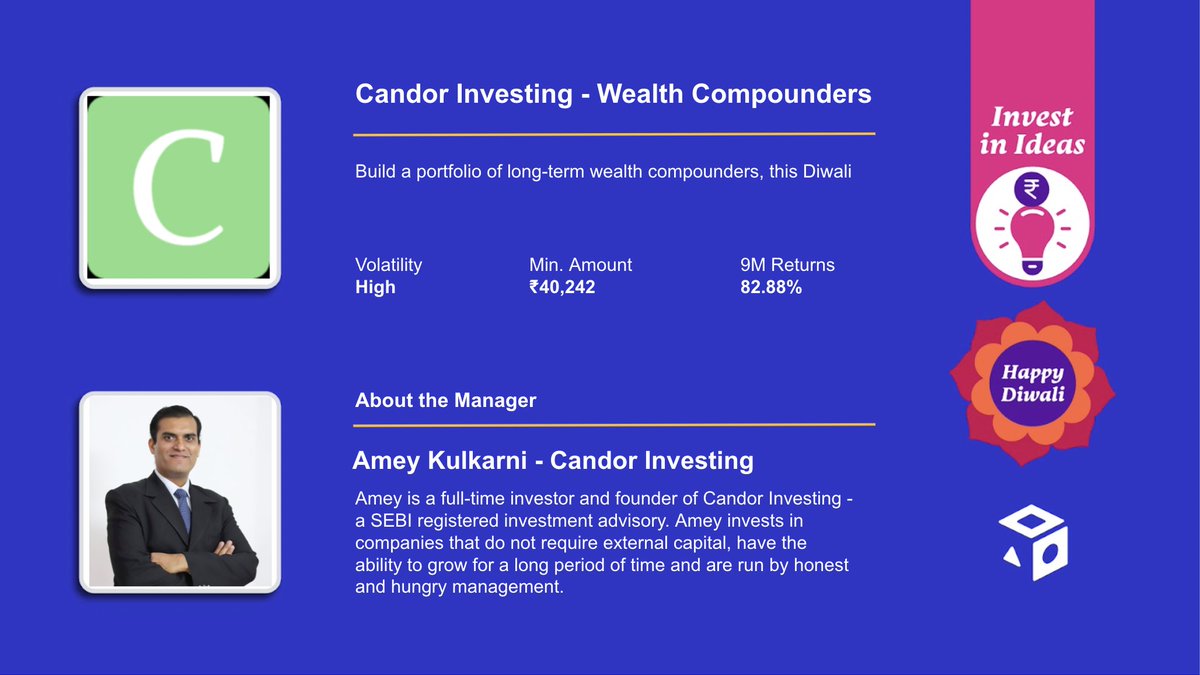 2/n
How money is made in the stock markets?
If profits go up⬆️, stock price goes up ⬆️
if profits go down⬇️, the stock price goes down⬇️
3/n
Interest rates, GDP, elections, Coronavirus, China, US impact the markets in the short-term.
However, what matters over a 3/5/10 year period is whether the profits of the company have gone up or not.
4/n
Example
HDFC Bank || 2007 Vs 2021

5/n
Stock returns – HDFC Bank
20% CAGR over 14 yrs
Starting from before the Global Financial Crisis

6/n
Bharti Airtel || 2007 Vs 2021

7/n
Stock returns – Bharti Airtel
4% CAGR over 14 yrs
Worse than FD returns!

8/n
What do we track to find and hold a business like HDFC bank?
Track the business, not the stock price.

9/n
Investment Methodology of Candor Investing
I choose a basket of 8-10 companies which have the potential to increase their profits by 2X to 5X in the next 5 years.
10/n
Monitor the companies and their competitors every quarter and make changes to the portfolio as required.
Real money is in research, knowledge, conviction and the patience to hold on to good businesses.
11/n
Some examples where I made a lot of money
Ashok Leyland – first started buying in Sep-19 (Price was Rs 70) before anyone else especially big institutions started buying.
12/n
Thesis – Commercial vehicle industry goes through cyclical ups and downs.
2019 was a bad year for Indian GDP and commercial vehicles. Last 20 yr history suggests sales go down by 50% to 70% in the down cycle.
13/n
Everyone knew that better days will come. The only variable was when and how soon?
Everyone else was trying to predict when better days will come before they buy the stock.
14/n
I overcame this prediction problem by buying small Qty of Ashok Leyland every month for the next 12 months.
This meant I don't have to try & predict something which was impossible to predict.
I bought all the way down to Rs 35 (during Mar-20) & now the stock is at Rs 144.
15/n
Manappuram – Gold Loan NBFC
The core gold lending business of Manappuram is extremely profitable and robust.
16/n
Every 2-3 yrs, some sort of crisis happens and this stock falls 40% to 50%
Nov-16: Demonetisation
Sep-18: IL&FS crisis
Mar-20: Coronavirus pandemic
17/n
Everytime there is a panic fall, I buy more of Manappuram and make approx. 100% returns over the next 6/12 months.
Markets like to unnecessarily panic and then come to senses over the next few months.
18/n
Stocks where I lost money
Kitex Garments – In one simple sentence why I lost money?
I assumed the business was way better than what it actually was.
I sold at a substantial loss after realizing my mistake.
19/n
Poddar Developers – I first bought this stock in 2017 around Rs 950.
I did a site visit to multiple of its projects and I realized that the CEO was bluffing about the project progress.
20/n
I realized that I had made a mistake in the assessment of the business and sold my stake around Rs 800.
Even after almost 4 years, the stock price is around Rs 200.
I got out in time because I realized my mistake
21/n
Investing is a very forgiving business – Why?
If we get a business wrong, the maximum we can lose is 100% in that stock.
If we get the business right, it can go up by 500% and more.
22/n
Even if we get just 2 stocks correct out of the 10 stocks we buy, our portfolio returns are more than satisfactory.
23/n
If you want to invest in such high-quality growth companies and give a kicker boast to your portfolio, Candor Investing is now on SmallCase.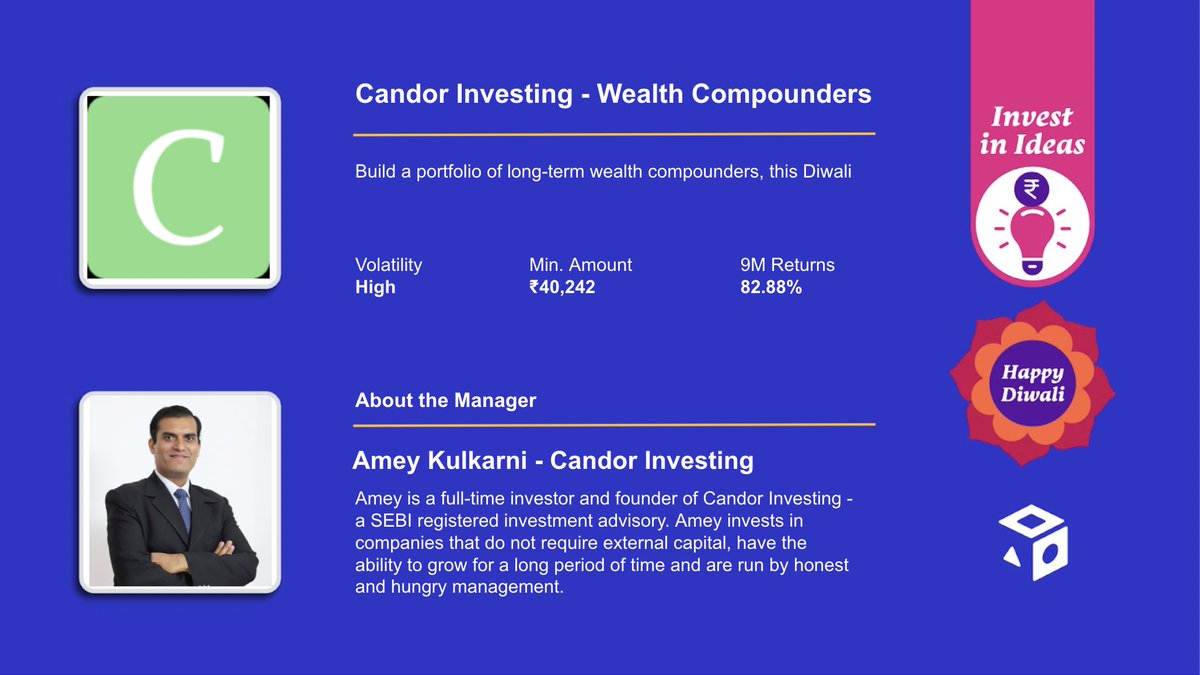 24/n
We had launched in Feb-21 and the SmallCase has given 80% returns in the last 9 months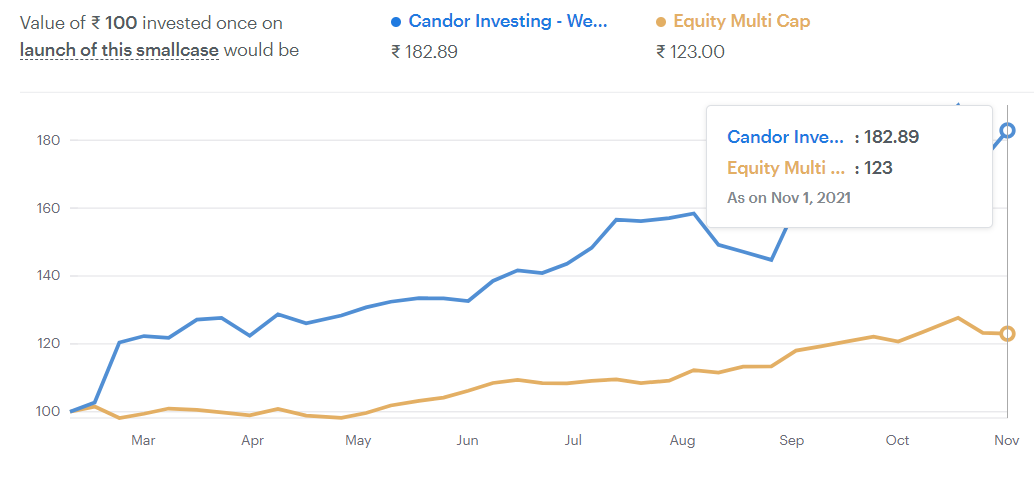 25/n
We are running a Diwali promo offer @smallcaseHQ
Use code "DIWALI21" and get a 20% off on the 6-month plan to the Candor SmallCase.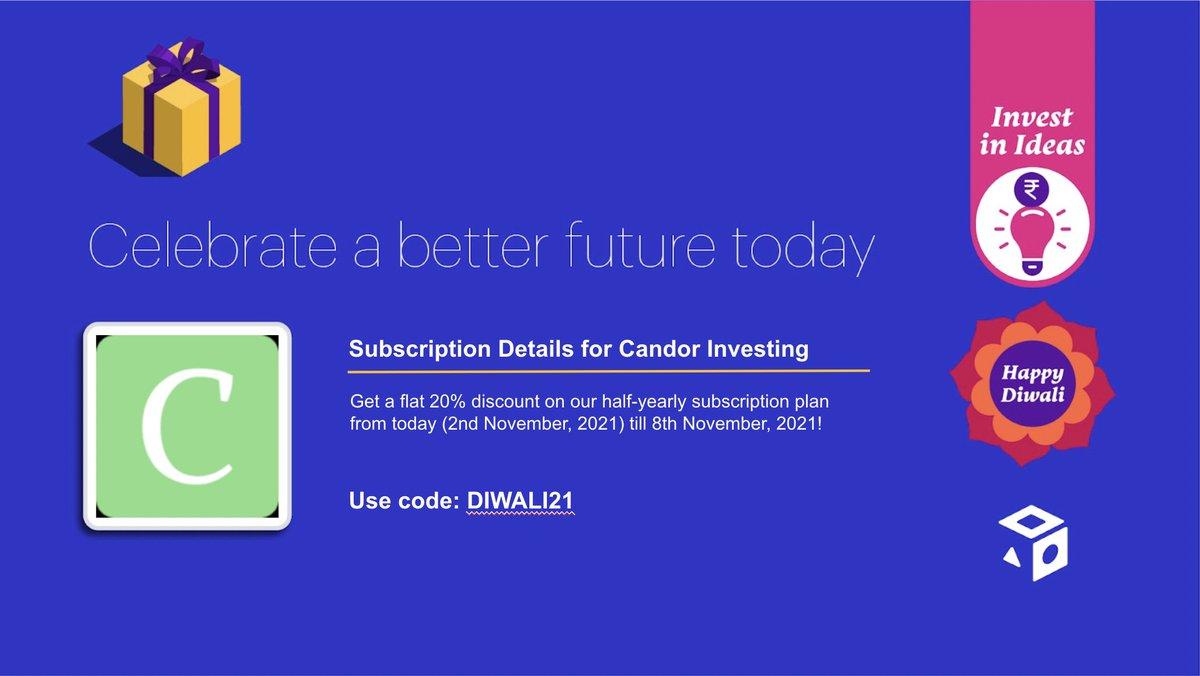 Originally tweeted by Amey Kulkarni (@amey_candor) on November 2, 2021.
You may subscribe to the Candor Investing SmallCase at the below link